What are the best loyalty programs out there today? Every company can go and make something wonderful, which is unique and unlike anyone else's. But there's so much to learn from the companies who have been successful with their loyalty programs. As Martin Reeves, Partner at Boston Consulting Group and Neuroscientist Jack Fuller said in their latest book, The Imagination Machine: How to Spark New Ideas and Create Your Company's Future:"Businesses now need imagination more than ever—to reinvent themselves at a time when competitive advantage decays faster than ever."
Let's look at the data and see what the loyalty experts think. We recently asked Global Customer Loyalty Report 2022 survey respondents what loyalty programs inspire them most. There were many responses, but when we tallied the answers up, there were five loyalty programs that clearly stood out as frontrunners.
The best loyalty programs, in respondents' eyes, were:
Amazon Prime
Nike Membership
PC Optimum
In this article and in episode 5 of Mission: Loyalty, I will focus on some of the loyalty programs above… and add some other inspiring brand examples from my own list.
What Can We Learn From the World's Biggest Brands?
Loyalty trendsetters are loyalty trendsetters for a reason. Usually, that's because:
They really understand how their customers use technology, like mobile apps.
They engage their members and build an enviable community.
Or, maybe, it's because their reward experience is truly tailored to customers' wants.
Watch the fifth episode of Mission: Loyalty, where we take you on a not-so-secret mission to improve loyalty and customer retention. In this episode, we explore loyalty programs that never cease to inspire. It's part of our tongue-in-cheek series made for organizations considering building or revamping their rewards program. And as it turns out, there's a lot to learn from the best loyalty programs.
So, let's take a tour and get inspired by eight of the best loyalty programs.
1. Nike Membership: Lifestyle Experience and Common Passions
Nike Membership made the "best loyalty programs" list in our research leading to the Global Customer Loyalty Report, but why exactly does the sportswear giant's loyalty program inspire so many business leaders? Most likely because it is almost entirely based on experiences.
The program includes traditional rewards program perks like free delivery, 60-day wear tests, receipt-free returns, birthday promos, and special offers.
Members have access to members-only products like shoes, apparel, equipment and accessories.
Nike Membership features events and workouts that members can attend.
Members can also take advantage of special partner offers, such as Headspace memberships, which help them get motivated and reach their goals.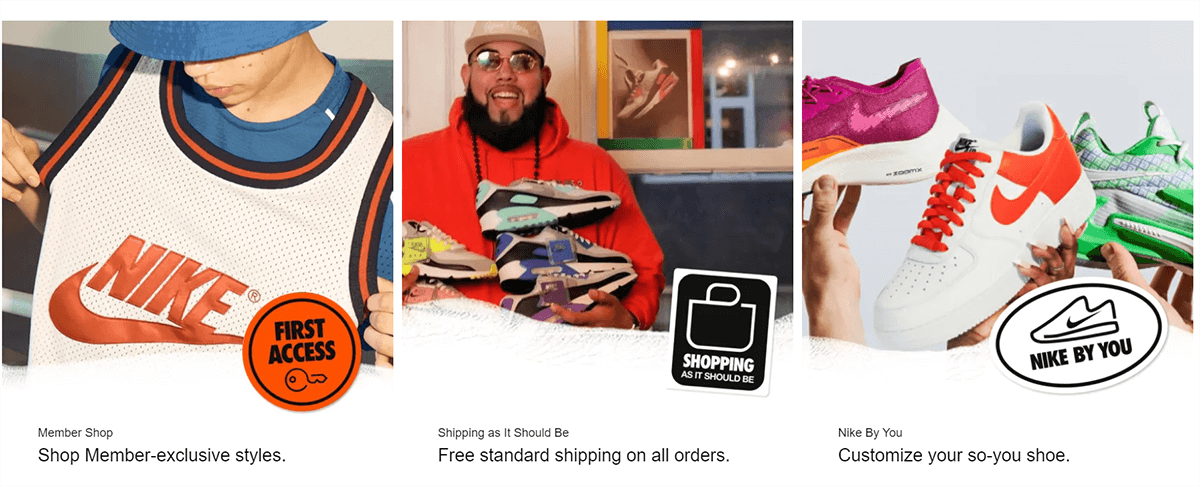 Why it works:
The program is inclusive. Once you're in, you get access to a range of perks, products, and services right away, without needing to earn points or rank up.
Nike's partner offers help members get motivated to reach their goals. Making this kind of support available to members helps the brand connect with them on a deeper level.
The membership program is a multi-channel experience and members automatically become a part of the community when they use one of several Nike apps. This helps to create a more relevant experience for customers, depending on their interests.
2. The Home Depot Pro Xtra: Lending a Helping Hand
The Home Depot's Pro Xtra has a special loyalty program that focuses on one particular customer group: home improvement professionals. Fun fact: Pro Xtra was introduced because of customer feedback, so perhaps it's no surprise that the program focuses on making professionals' work easier.
Pro Xtra's time-saving perks include reserved parking, dedicated checkout lanes, and two-hour turnaround on orders.
Members have access to an expanded selection, exclusive discounts, and reduced pricing on high-value orders.
This program is really able to make a difference because they're recognizing their customers' businesses and offering perks and tools to help them succeed.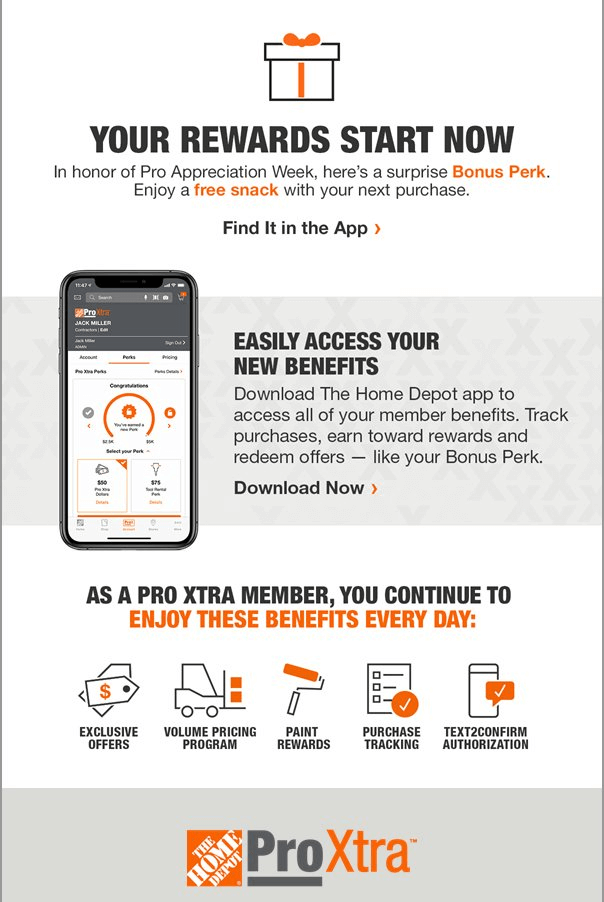 Why it works:
The program was designed to be helpful. By helping professionals build their businesses, The Home Depot is also building trust among this important customer segment.
Pro Xtra combines special perks with bulk pricing, an app, and a credit card, effectively giving professionals a convenient one-stop-shopping experience.
The membership benefits, rewards, and communications speak directly to this customer group's needs and desires.
3. Marriott Bonvoy: Something for Everyone
Marriott's loyalty program, Marriott Bonvoy, is packed with loads of features and is available to members on several channels, including a stellar mobile app. Marriott has curated a great selection of rewards, from discounts to full-on experiences. And, somehow, they manage to tie every moment back to travel and business — perfect for their customer base.
Marriott has two different tier structures, which can be complicated, but this works for their business model, enabling them to reward customers for their business across an extensive and varied portfolio of properties.
The program gives customers many ways to earn points, so they are not limited solely to hotel stays.
There are many ways for members to use their points, from experiences, to gift cards, to hotel nights and travel-related rewards.
Why it works:
The program, although complex, is built for a wide customer base visiting a large portfolio of properties at varying price points. Marriott's point and tier systems, as well as its extensive rewards catalog offer something for everyone. Plus, such freedom of choice gives members the autonomy to have the reward experience they want.
Bonvoy benefits make each hotel stay special, with opportunities for late checkout, room upgrades, and in-room gifts.
Marriott uses a tier system to help reward their top customers with the best benefits. Tiers also motivate people to move up to earn more perks.
4. Starbucks: A Sweet Spot for Convenience
We already know customers spend much of their time using mobile apps — people spent a whopping 4.8 hours a day using their mobile phones last year, according to research by App Annie. So how have the best loyalty programs adapted to this trend? Look no further than Starbucks Rewards for inspiration.
Members earn one Star per dollar spent via cash, credit card, or debit card. They earn two when they preload their Starbucks Card or use a gift card.
Stars can be used towards drink customizations, drinks and bakery items, meals, or select merchandise.
Special Bonus Star challenges, games, and Double Star Days occur regularly so customers have plenty of chances to earn stars faster.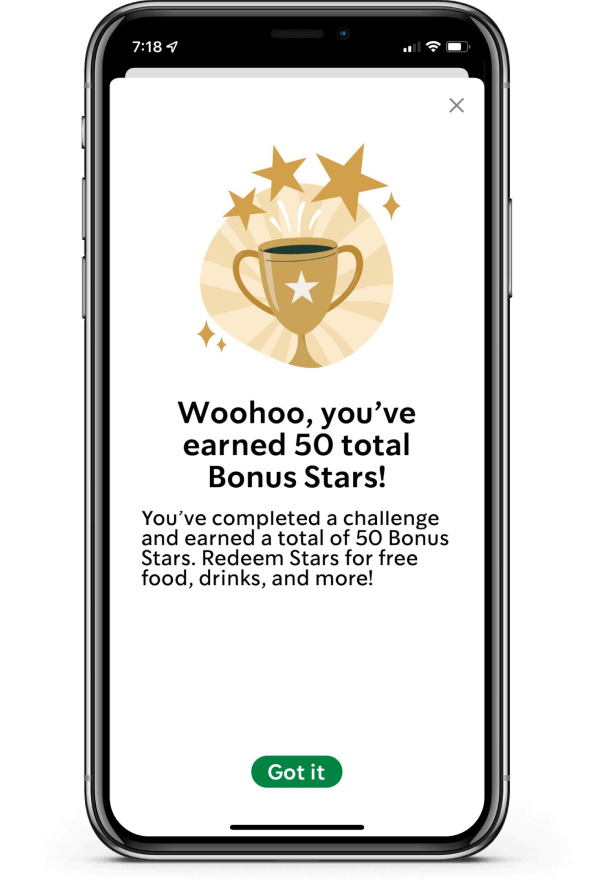 Why it works:
Starbucks has seamlessly connected its loyalty program with its mobile app. Combining ordering with loyalty ensures members will earn stars automatically and make the most of their experience – no jumping through hoops or searching for plastic loyalty cards.
By offering customers more stars for using pre-loaded cards, they're giving customers money to keep their money in, essentially, the bank of Starbucks.
Starbucks has kept it relatively simple with rewards focused on the food and beverage experience, building customers' habits to continue reaching for their favorite products or try new ones.
The gamified experience with challenges and real games makes the experience varied and keeps it interesting, even for long-time members.
5. MyMcDonald's Rewards: Making App Download Irresistible
McDonald's introduced its loyalty program in 2021 and, in just one year, accumulated 26 million members. The company launched its loyalty program as a part of a wider set of digital initiatives focused on the convenience of ordering. The fast food chain's limited coffee rewards program is now a part of the MyRewards app. The company has shown their prowess in making it rewarding to join the program and use the app with evolving welcome bonuses to encourage downloads and registration.
There's a welcome bonus of free McNuggets for customers who download the app and join MyMcDonald's Rewards and 1,500 bonus points after the first purchase.
Members select "earn points" in the app to receive a code they can use when ordering in restaurants or Drive-Thrus. Meanwhile, mobile order and payment users get points automatically.
Members can redeem their points for items simply by adding their favorite treats to their next order.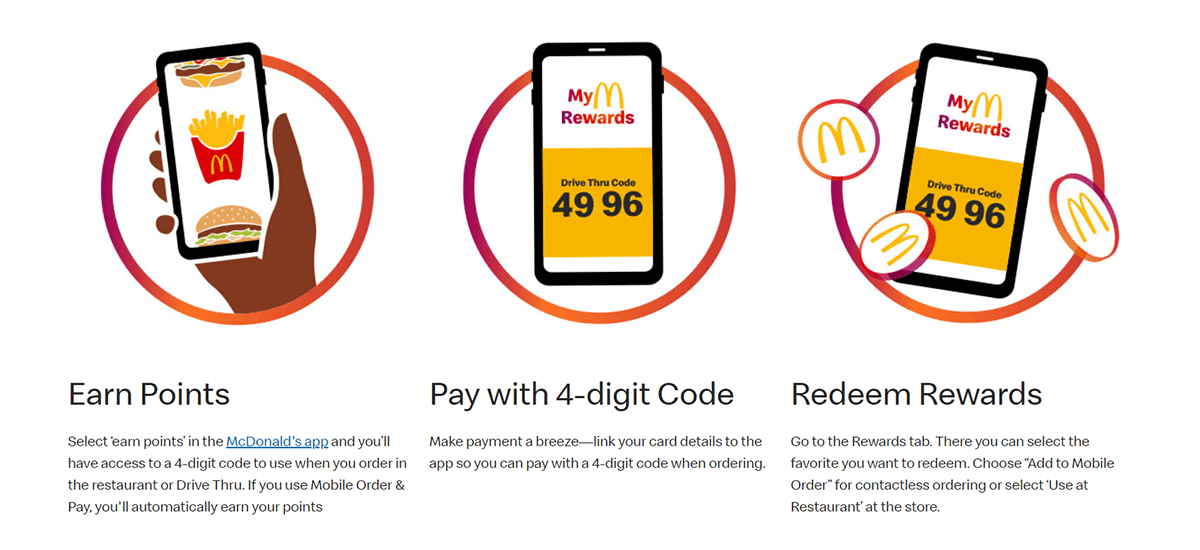 Why it works:
Ease of use for Mobile Order & Pay encourages customers to use the app to place orders.
Simplicity in reward redemption focuses fully on McDonald's products for a pure brand loyalty experience.
A welcome bonus and first-purchase bonus work to entice customers to start using the app and become MyMcdonald's Rewards members.
6. American Airlines AAdvantage: An Evolution Story
American Airlines has undergone several loyalty program revamps, going from a miles/flights-based approach, to a spend-based approach several years ago. Then, in 2022, the company introduced another change: Loyalty Points. No longer relying on a complex combination of "Elite Qualifying Miles", "Elite Qualifying Dollars" and "Elite Qualifying Segments", American Airlines has opted for a simpler way for members to track their progress. However, there is still a complex system of status and "reward levels", and the term "miles" can still be found in their marketing assets. Time will tell how customers find the new changes.
Every AAdvantage Mile earns 1 Loyalty Point.
Members can earn miles (and, as such, points) for flights, AAdvantage® credit card purchases, or qualifying transactions with AAdvantage® partners.
Members can spend their miles (or points) for rewards within a regular rewards catalog, featuring experiences, upgrades, and Admirals Club membership, or the airline's most loyal customers can choose from Loyalty Choice Rewards, a more exclusive reward offering.

Why it works:
Large airlines and hotel chains often have a complicated business structure to cover their many brands and partners. However, AAdvantage's new, simpler approach using the term "points" makes it easier for customers and staff to understand how the program works.
AAdvantage stands out due to an enormous variety in point earning and spending options, which helps create a relevant experience for a diverse customer base.
7. Amazon Prime: Taking Customer Delight to the Next Level
Amazon Prime has redefined what loyalty programs mean for today's consumer and they've managed to keep customers engaged for years. They've evolved their subscription loyalty program with popular free shipping services, access to exclusive entertainment assets, and, in some markets, an online grocery service. And if we can talk about marketing expertise, they've made Prime a brand of its own with, practically, an international holiday "Prime Day", which other retailers now borrow, too.
Amazon Prime members enjoy free same-day, one-day, and two-day delivery.
In some markets, members can get two-hour delivery on grocery items.
Members can shop throughout the week and conveniently receive all of their orders on a single day.
Other benefits include free games, special deals, savings on prescription drugs, books and magazines, photo storage, and more.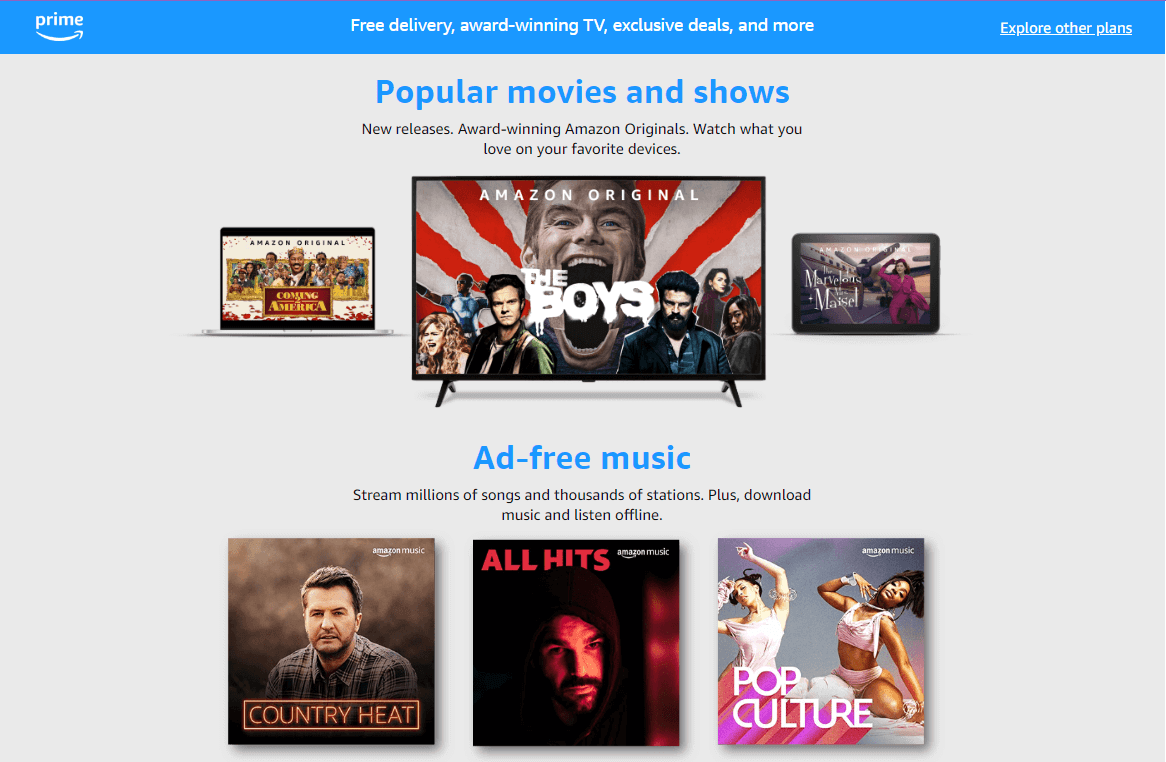 Why it works:
Student and government assistance rates in the US make the program more accessible to a broader customer base.
A free trial for 30 days gives Amazon customers a no-strings-attached way to try the program and its vast benefits.
A true leader, Amazon's Prime Day and other Amazon Prime marketing initiatives have proven so popular that other brands have adopted them.
8. Uber Rewards: Combining mobility and delivery in one program
Uber's loyalty program, Uber Rewards, was introduced in 2018. Before Uber Rewards entered the picture, they had a VIP program for riders that took 100 rides, but since that program has been limited to American Express Consumer Platinum® and Centurion® Cardholders in selected cities. Uber Rewards has opened up the loyalty experience for a wider audience.
Members earn points for eligible Uber rides and Uber Eats meals.
Customers who take higher-end rides earn more points: 2x points on UberX and 3x points on Uber Black.
The program has four tiers that unlock successive benefits and increased point-earning: Blue, Gold, Platinum, and Diamond.
Uber also has a rewards program for drivers.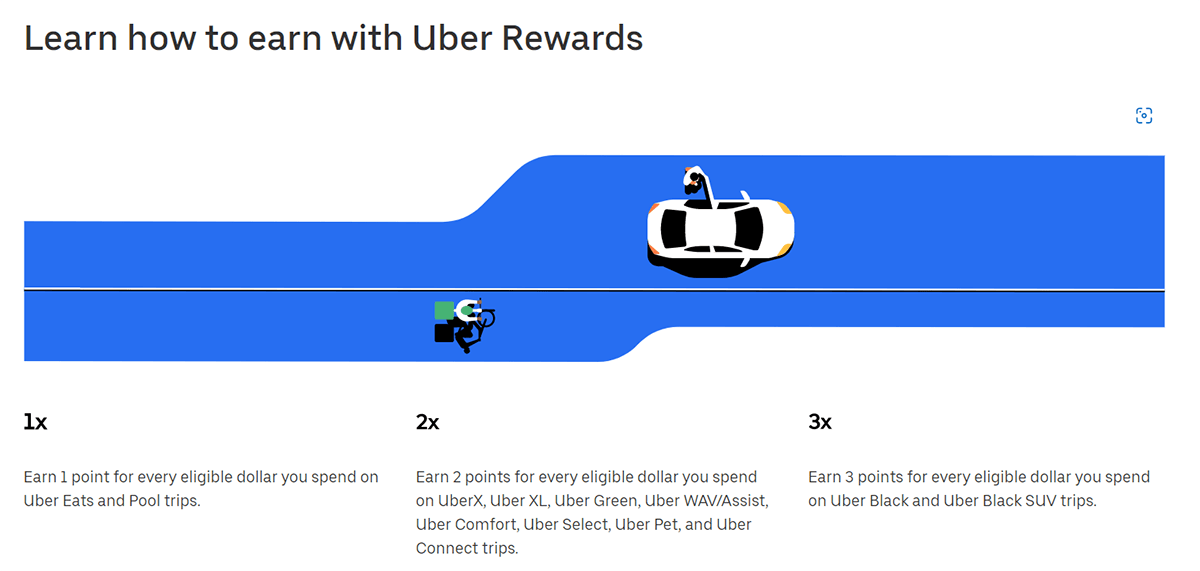 Why it works:
From a business perspective, allowing customers to earn more points on higher-value services encourages customers to use them more often.
The company has combined both of their popular apps into one easy-to-use experience, so customers who use both apps can interact with the rewards program in one place. Plus, customers who only use one of the apps might be more willing to try out the other.
What You Can Learn From the Best Loyalty Programs
As you've seen, Nike, Starbucks, Marriott Bonvoy, American Airlines, The Home Depot, McDonald's, Uber and Amazon Prime are satisfying their customers' needs in many different ways, like:
Offering them exclusive products and services
Connecting with them on mobile
Connecting through a shared passion
Valuing each customer based on spend, which allows brands to offer high-value customers better reward opportunities.
So you can see that there is no singular way to reach success. Which of these best loyalty programs inspires you the most? And which strategies best align with your brand? The sky's the limit.
The latest wave of customer loyalty program revamps is already happening, so it's time to start planning your next steps. If you're ready to act and build or revamp your loyalty program, get in touch with our team of experts. Book a demo or send an RFP, and we'll show how our loyalty platform can transform your customer experience.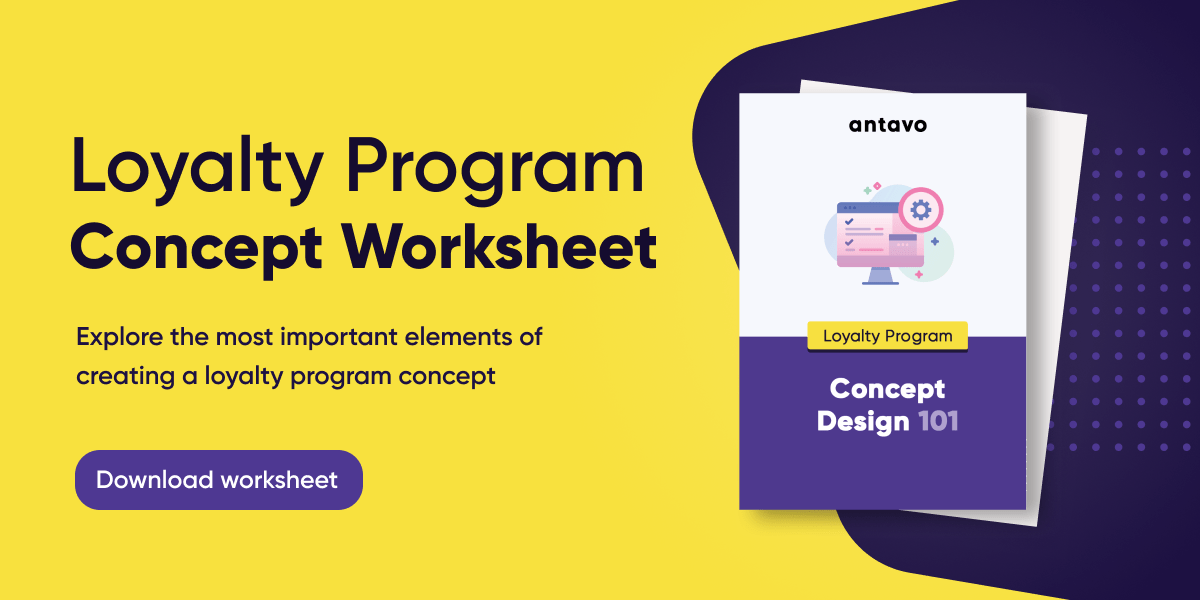 Antavo Enterprise Loyalty Cloud