The technology behind loyalty programs is like the lab coat-wearing scientists in a spy organization. They might be in the background, but at the end of the day, it's their cool gadgets that help James Bond save the day. That's why you should never underestimate the power and importance of loyalty program technology. But where should you start your research when you want to launch (or re-launch) your loyalty program? What options do you have to choose from? And how will you avoid common pitfalls?
Don't let these questions bog you down. In this article, we will go over some best practices and dive into the pros and cons of various loyalty program technologies. We'll also investigate the vendor selection process, in case you are looking to outsource it.
The Evolution of Loyalty Program Technology
In the beginning, there wasn't much of a question on how to handle the technicalities of loyalty programs. The lack of businesses specialized in loyalty technology meant that companies had to handle everything in-house. Going the DIY route meant that companies had full control over the operation and development but, even at an early stage, this meant a lot of extra work for the team tasked with running the loyalty program.
Over time, companies started wondering: is it possible to outsource all of these tasks? And where there is a need, there is a service! That's how the market for loyalty program technology was born.
Generally, you have two options if you wish to task a third-party company with taking care of technology. First, you can turn to a large marketing agency that will build the program and also handle day-to-day operations according to your wishes. This, of course, comes with a hefty price tag… so the other option is to turn to a technology vendor. Loyalty technology vendors provide the loyalty program platform and configure it, but your own employees will take over day-to-day management.
Watch the seventh episode of our Mission: Loyalty video series, which is all about investigating the right loyalty program technology,. You'll discover ways to ensure you pick the right tools (and vendor) for the job.
The Challenges and Best Practices for Implementing Loyalty Program Technology
In your search for the best loyalty program technology, there's one thing you should know: there is no such thing as "one-size-fits-all". What's considered the "best fit" should not be dictated by the market, but rather by your own needs. As such, loyalty program technology should always be customized according to the KPIs you wish to move, your brand identity, and the ways you want to engage your core audience.
Now, let's take a deeper look at the three types of loyalty technologies.
1. Developing a Loyalty Program In House
In-house or DIY technology means that you have to dedicate your own resources to developing the loyalty program, from coding the loyalty engine to building the interface. On the plus side, the end result is tailored to your specific needs. The downside, however, is that there's a higher risk of your technology — and innovation in general — stagnating.
Although delivering a custom platform that meets customer expectations is becoming more and more challenging as technology gets more sophisticated, a large number of brands still prefer this route. According to our Global Customer Loyalty Report 2023, 52.3% of loyalty programs are managed by in-house technology.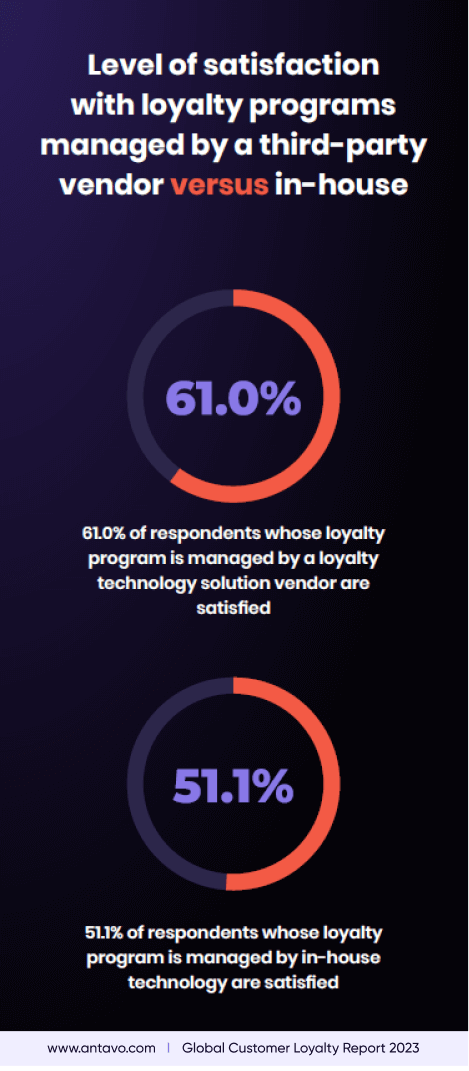 2. Hiring an Agency to Build Your Loyalty Program
If you choose an agency that has experience working with loyalty, you're already off to a good start. Agencies can help you develop an attractive customized loyalty program, from start to finish, either by doing it themselves or partnering with a tech provider. Agencies can also manage all of the marketing communication around your rewards program. There's one caveat, though: this approach costs a lot of money, as you'll have to foot the bill for multiple services — not just the technology.
Going this route is best if you're looking to save time or don't want to dedicate your own team to running the program. An agency's experience is also very valuable if you need help working out your loyalty program's concept. They'll also be able to share best practices and guide you along the way. It won't be "set it and forget it", however…if you choose an agency, they will still require your direction and input throughout the process.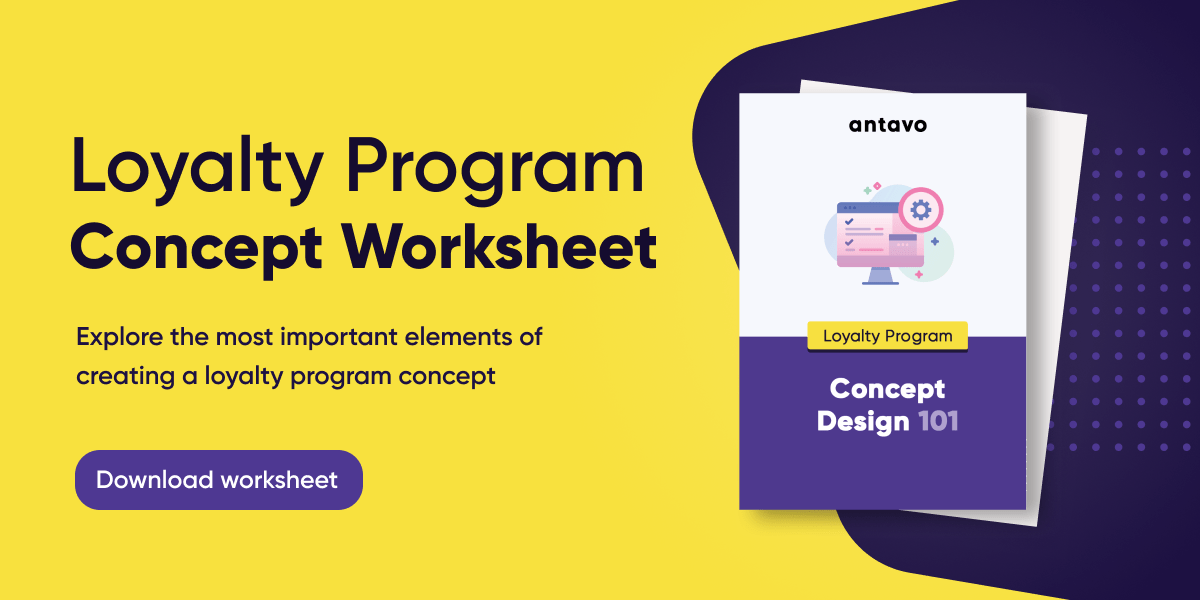 3. Using Loyalty Technology From a Third-Party Vendor
If you choose a third-party loyalty technology vendor, you'll be licensing ready-made software. This kind of technology tends to be more sophisticated and come with loads of out-of-box capabilities. Plus, to stay competitive, vendors generally introduce new innovations constantly.
Third-party technology represents the golden middle: they require active planning and cooperation on the company's behalf, yet the technology itself is readily available, so there is very little development required in order to launch. This is especially true for pure-play loyalty technology providers, which offer sophisticated features such as gamification, multiple tiers, and gamified surveys. And because companies are only paying for the technology, it's more cost-effective than delegating the entire project to an agency.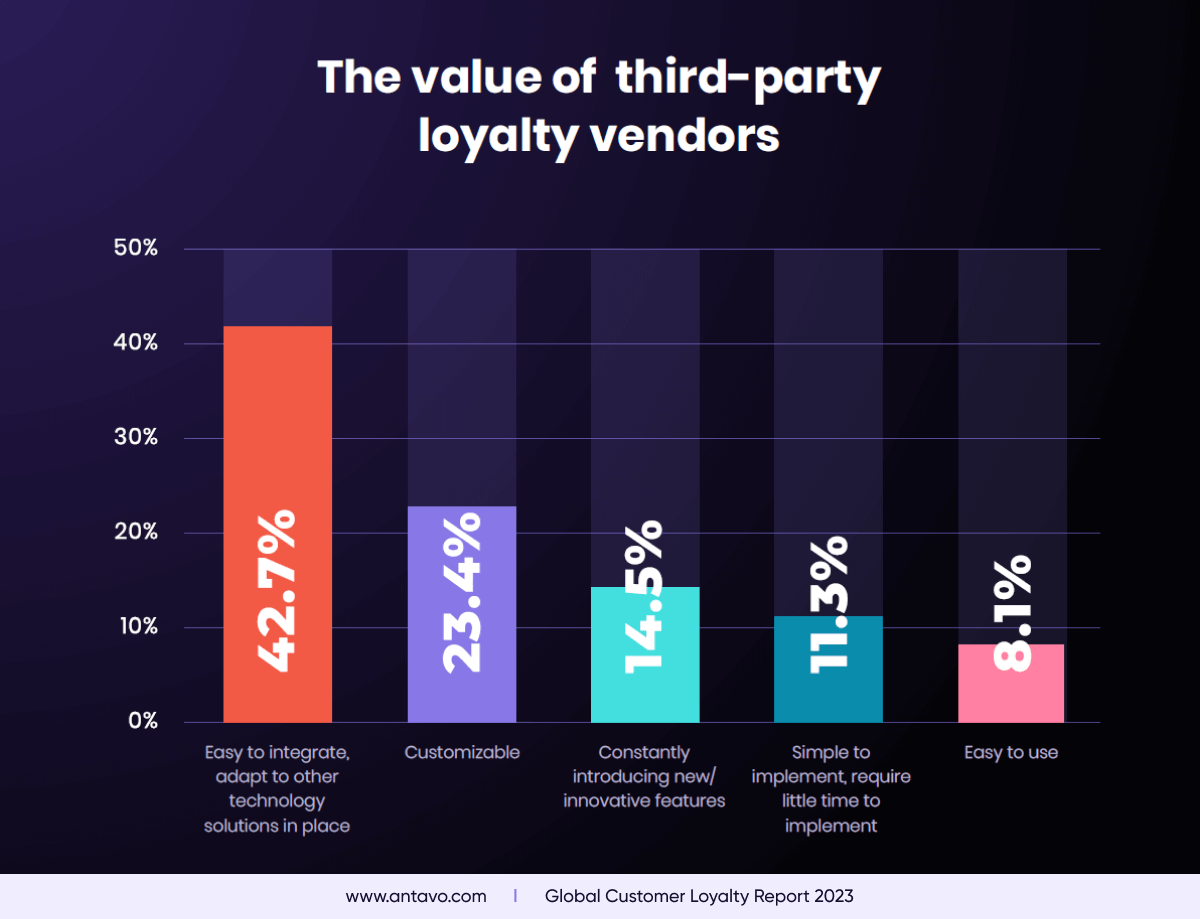 Finding the Right Loyalty Program Provider
Is it worth switching from one type of loyalty program technology to another? That answer depends on your own unique circumstances, but in our Global Customer Loyalty Report 2023, we discovered that 71.4% of program owners that have revamped their loyalty program in the past two years are satisfied with their new program. So making the switch to better technology definitely pays off.
If you're considering launching (or re-launching) your program with a third-party loyalty program provider like Antavo, here are some best practices to keep in mind when searching for the right vendor:
Conduct the vendor selection process through an RFP. This will help you clarify your tech requirements and KPIs.
Alternatively, you can use trusted publications, like Gartner's Market Guide for Loyalty Management or Forrester's Wave around Loyalty Program Technologies, as guidance for selecting a vendor.
Look for a vendor that offers no-code technology, because it will make post-launch program management far easier for your team.
In order to support your tech vendor, make sure to create a detailed concept document that's longer than one page.
If you need help with the concept, hire a seasoned consultant firm or an industry organization like Customer Strategy Network, The Loyalty People or Loyalty360.
Consider working with a system integrator like EPAM or Acxiom to help make implementation much smoother.
Don't forget about security! Capabilities like fraud detection and data protection should be addressed long before the integration phase.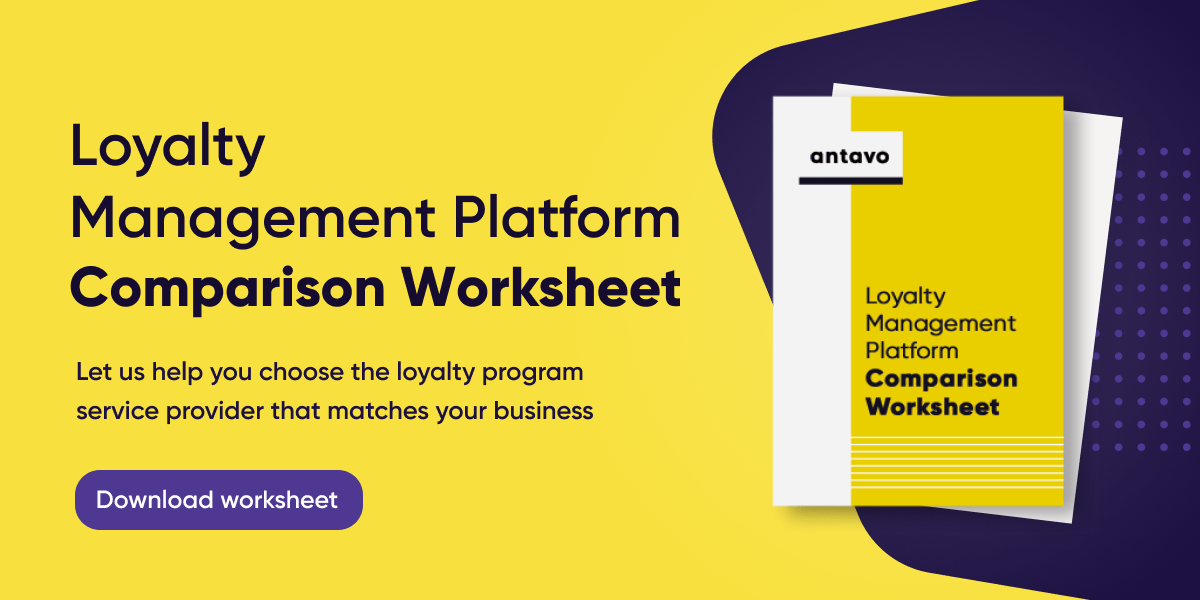 Identifying the Right Loyalty Program Technology Isn't Easy, But It's Absolutely Worth It
The search for loyalty program technology starts by taking a deep look at your company's needs and goals, then coming up with requirements. Then, you have to assemble your team (in house, through an agency, or through a tech vendor), and work out the details. This process is long and difficult, but remember this: 80% of companies that measure the ROI of their loyalty programs reported a positive ROI, earning 4.9x more revenue than what they spend on average — according to our 2023 report.
If you'd like to know whether Antavo is the right loyalty program technology for you, our experts are more than happy to take you through a product demo. Feel free to book a demo or include us in your RFP.
Meanwhile, don't forget to download Antavo's Customer Loyalty Report, an in-depth report that showcases current trends, as well as up-and-coming trends that will shape the future of loyalty. This report will help you navigate the world of next-gen loyalty programs.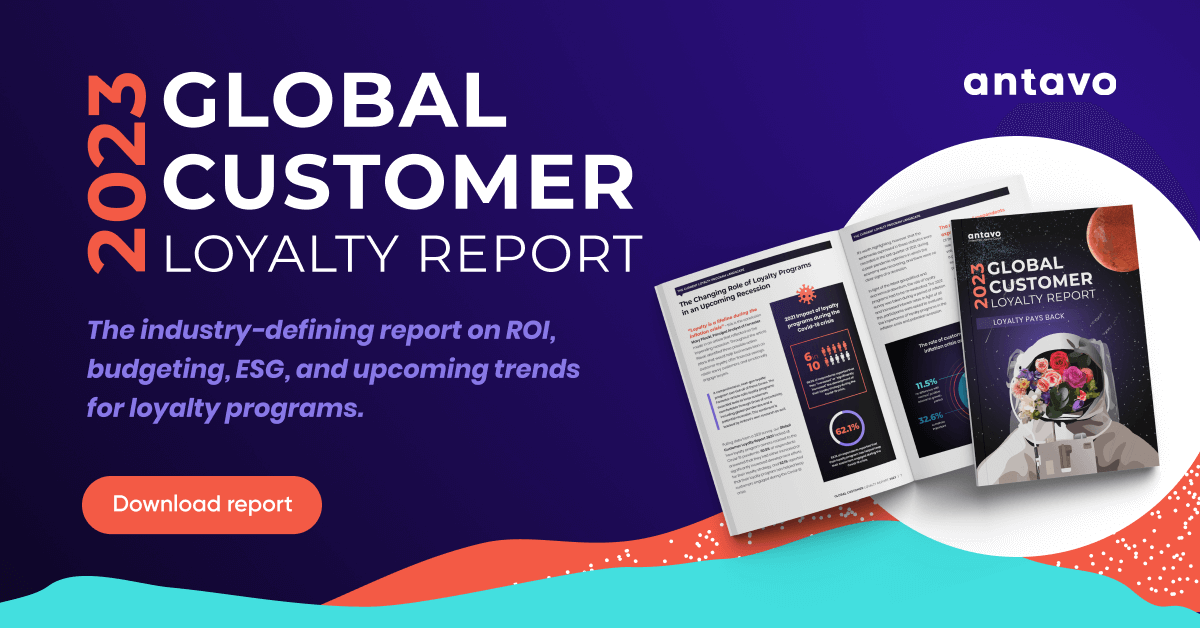 Antavo Enterprise Loyalty Cloud