In the past few years we have experienced a handful of crisis scenarios. Such situations completely disrupted the market and upset customers' lives, which ended up transforming the way customers interact with brands. People have changed their shopping behavior multiple times: according to McKinsey's report, more than 75% of customers have changed their buying habits since the onset of the pandemic. On the bright side, these challenging times hold many loyalty program strategies for brands that are ready to innovate and prioritize customer retention.
Customers Remember the Brands That Were There for Them
Loyalty programs go way back in providing salvage for brands in turbulent times. For instance in the late 1920s, during the Great Depression, Betty Crocker invented a modern loyalty program by introducing the so-called "box tops", which were redeemable coupons printed on product packages. Later on, card-based loyalty programs became popular during the 1990s in the western world, during the recession. And following the economic crisis of 2008, loyalty programs boomed, growing by 19% between 2007 and 2009 and driving consumers back to brands that were offering the best deals.
In times of crisis, you need a way to encourage customers to keep shopping with you and to make them feel that you care for them. A loyalty program is a great way to do all of the above. Since acquiring new customers costs five times more than retaining current customers, it's even more important to focus on your existing clientele during times like these. There are several ways to leverage your loyalty program and show members why it's beneficial to stay on board. Let's see how you can adapt your loyalty program to different crisis scenarios.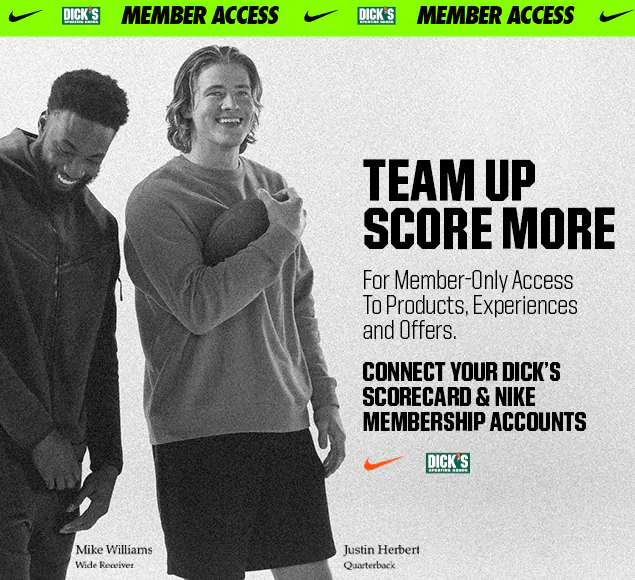 1. Loyalty Programs During Crisis: Post-Pandemic Loyalty Program Strategies
During the pandemic. people were forced to stay at home. Although in the beginning they were saving up, after a while they started spending money again. Now, following the peak of the pandemic they are looking to compensate for the lock-downs and may even turn to "revenge shopping". All you have to do is make sure that they plan to purchase from you.
Revenge shopping is when customers make up for lost time with increased spending. While they are willing to spend more to treat themselves after a stressful period, they want to do so wisely. Companies need to focus their attention on nurturing customer loyalty. With the help of a rewards program, brands are able to constantly engage their customers with attractive rewards and can increase their share of wallet.
Rethinking the Approach to Customer Loyalty and Retention
COVID-19 had an effect on all aspects of customers' daily lives and altered how companies in basically every industry operate. Business owners are facing a new set of challenges and brands must recognize that traditional approaches to building customer loyalty have changed forever. Based on Deloitte's survey, almost four in five people can cite a time when a brand responded positively to the pandemic and one in five strongly agreed it led to increased brand loyalty on their part. Brands also have to reexamine which customer segments are most important to them, how those shoppers interact with their company, and what features resonate with them. These insights will help them to drive brand affinity.
Fortunately, loyalty programs open up many possibilities for companies to help them succeed in this new situation. In our Global Customer Loyalty Report 2022, we found that loyalty programs performed extremely well during the Covid-19 pandemic. Results show that for 62.1% of respondents, loyalty programs have helped to keep their customers engaged during the Covid-19 crisis. The effect was most pronounced for brands running tiered programs.
Best practices for post-pandemic loyalty program strategies
2. Loyalty Programs During Crisis: Collecting Customer Data During Information Scarcity
The rising number of privacy laws and a crackdown on third-party cookies have forced companies to rethink their data strategy. At the same time, customers tend to share less and less information. It's essential for brands to find a way to collect reliable data in order to enhance the customer experience. According to our Global Customer Loyalty Report 2022, respondents ranked customer data collection as one of the three most influential trends for the coming years. According to Deloitte's report, marketers expect a large increase in first-party data usage over the next two years (75% will increase use), which is predicted to far exceed the use of second-party (46%) and third-party data (39%).
Put Your Loyalty Program at the Heart of Your Customer Data Strategy
It's not enough to guess which rewards and benefits your existing customers will value; you have to be certain that what you offer will resonate with them. See what works with your customers — which rewards and benefits do they respond to? This requires customer data, which loyalty programs can generate. If used properly, that data can help you optimize your offers. Loyalty programs deliver first-party data about how and when customers shop, what they buy, and what they consider purchasing but ultimately decide not to buy, in addition to other valuable data points. You can use this data for better personalization. Also, being aware of which customers spend the most helps you focus on your most valuable customers and target them accordingly.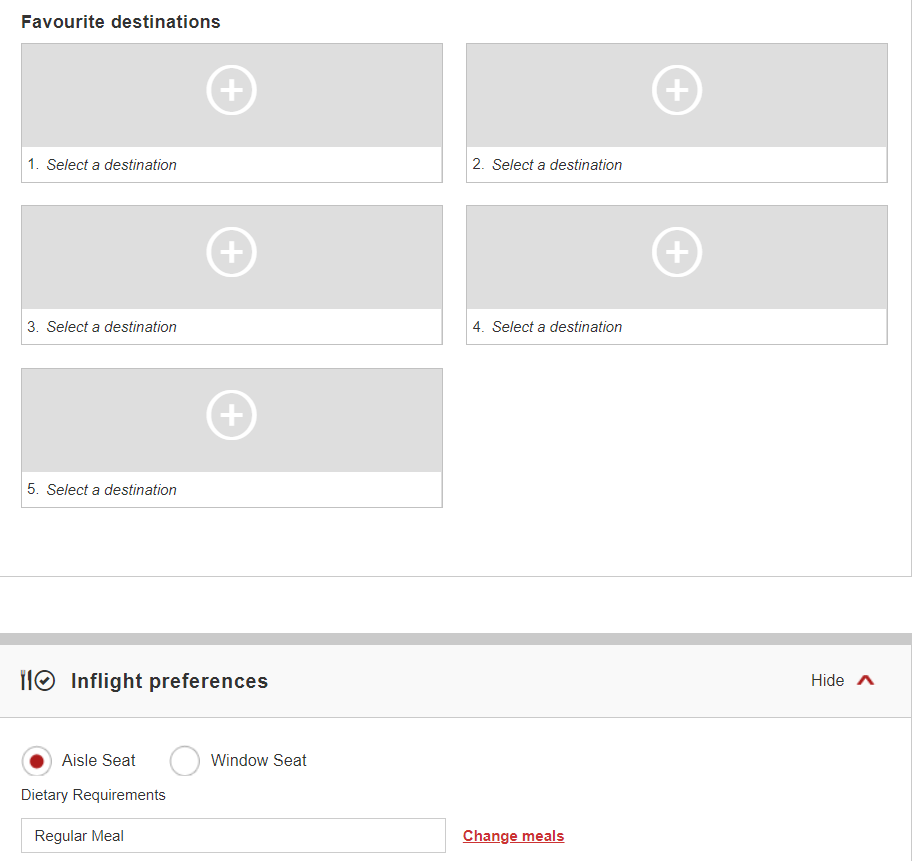 Best practices for collecting customer data
Incentivized profile completion: when customers sign up for your loyalty program, be sure to ask only a few key questions during the registration process. This will help make the process quick and seamless. Additional questions can be asked later in the user profile. This is a great way to obtain zero-party data from your customers. If you offer bonus points for profile completion, members will be more eager to complete their profiles.
Gamified survey completion: surveys are a fun way to learn more about customers and are an excellent source of zero-party data. These surveys present questions in engaging ways and allow you to learn about customers' preferences, lifestyles, hobbies, etc.
Personalized offers: customers are more likely to share personal information and shopping preferences if there is a meaningful and relevant reward insight. 80% of customers say they are more likely to do business with a company if it offers personalized experiences.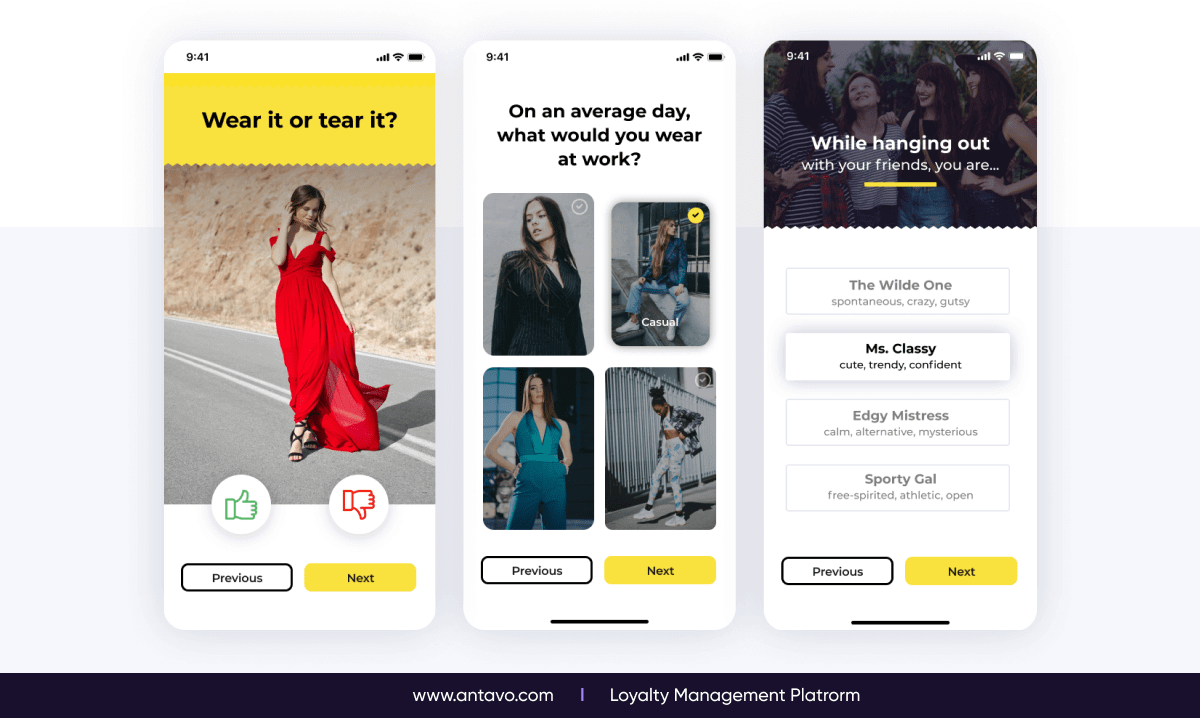 3. Loyalty Programs During Crisis: Loyalty Programs Amid Inflation
We are currently on the verge of a recession. There are several loyalty program strategies that can help brands keep customers near during this time. Customers are predicted to tighten their purse strings and brands need to help customers feel more comfortable during times of uncertainty. Loyalty programs provide value to customers, which encourages them to stay with your brand. Mary Pilecki, VP, Principal Analyst of Forrester called loyalty a lifeline for the inflation crisis for this exact reason, suggesting that loyalty programs greatly support businesses at the time of recession.
Offer a Mix of Transactional and Non-Transactional Rewards
One of the loyalty program strategies in times of crisis is offering customers financial benefits and ways to save money. According to Forrester, 73% of US customers believe loyalty programs help them save money. You can tailor your rewards and benefits to offer members essentials during the recession period. When everything is getting more expensive, customers' desire to shop can decrease. Another approach is to modify your loyalty program to be less about financial benefits and more about emotional loyalty. If you offer better benefits, you'll have a chance to attract customers from your competitors.
Best practices for building an emotional connection with customers during tough times
Send personalized messages/empathize in your messaging: show your appreciation for customers by sending personalized messages and offers that reflect your commitment to your customers' well-being. Ensure they are aware that your company understands it's a tough time and that you're there for them, offering benefits they can use.
Offer extra rewards, double points: make sure that customers know what options they have to redeem financial rewards on essential products that have gotten more expensive.
Put more emphasis on emotional loyalty: reward customers with exclusive content, feel-good rewards, badges, and smaller experiential rewards. These will help you maintain your relationship with customers even when they're not buying.
Consider cashback reward programs: with every purchase a customer makes, give them the opportunity to earn a small amount of money back. This is a popular solution because it provides instant gratification and encourages customers to shop.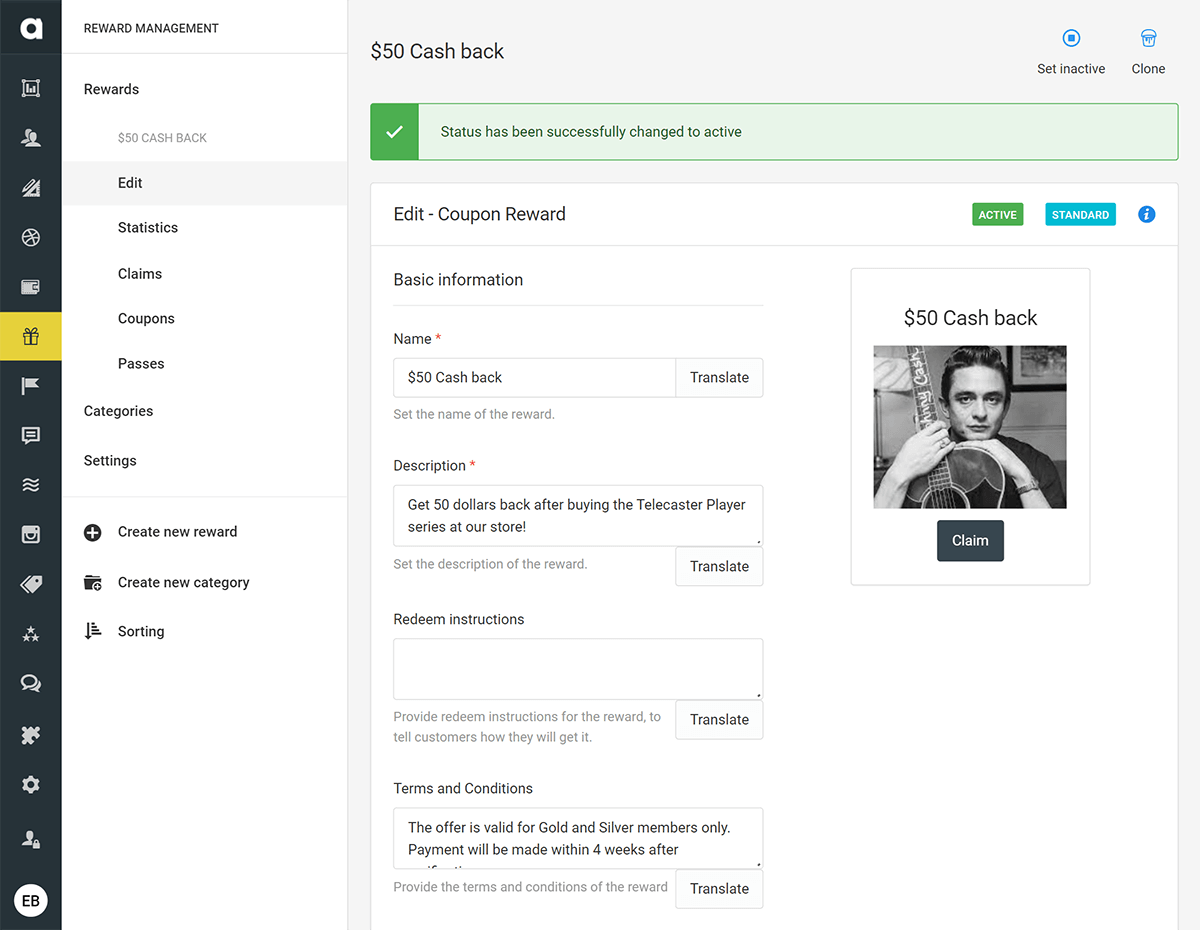 Is Earn and Burn Making a Comeback in the Age of Inflation?
Although emotional loyalty is on the rise, brands shouldn't forget about the proven formula of earn and burn loyalty programs, which let customers exchange points for coupons and other financial incentives. Though experiential rewards and engagement that goes outside of the buying cycle are more effective in most cases, inflation creates a different customer mindset. Customers understandably have a lot of concerns about how they're going to make ends meet. Providing them ways to save money with the help of your loyalty program will strengthen your connection with customers. They will remember that your company helped them out in the time of need.
In spite of the fact that discounts will play a more important role in the age of inflation, companies that also reward customers outside of the buying cycle, provide experiential rewards, and make the shift towards a more emotional loyalty model will be able to truly differentiate themselves from the competition.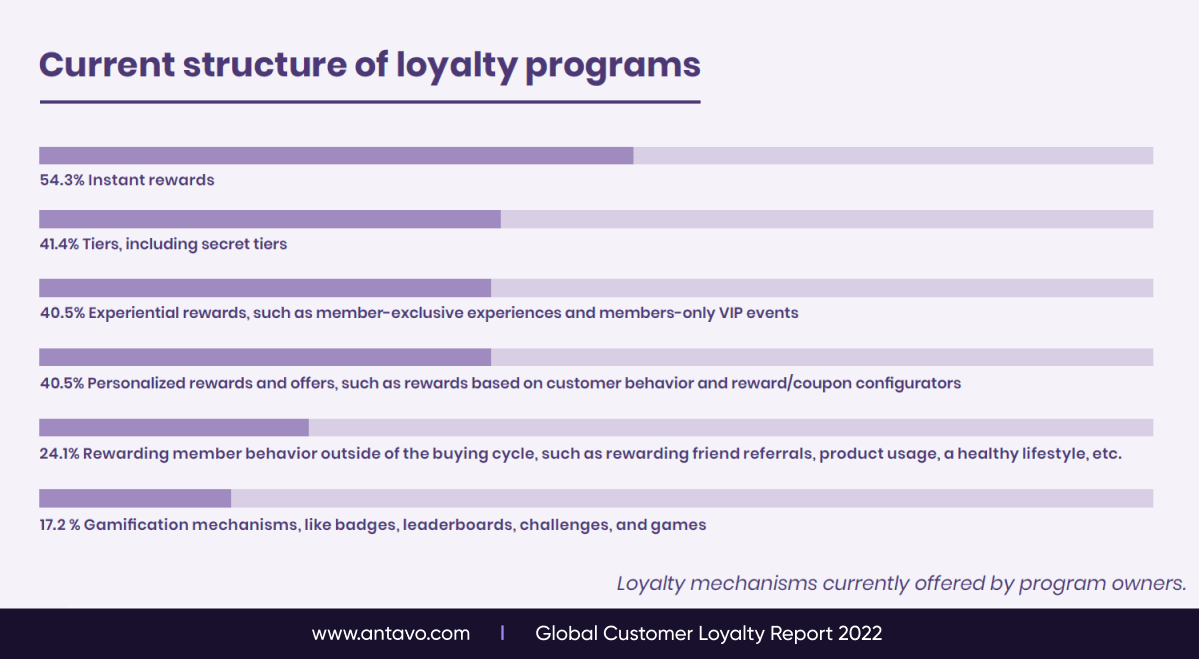 5 Examples of How Brands Altered Their Loyalty Programs in Times of Crisis
Let's see how some of the brands modified their loyalty programs in order to help their members.
1. Marriott – Marriott Bonvoy
As a result of the pandemic, Marriott extended its members' elite status. All Marriott Bonvoy loyalty program members who currently have elite status will remain in that status for another year. This means that with their latest extension in 2021, some members will have had Elite status for almost three years without having to requalify for it. Marriott also extended their Free Night Awards and Suite Night Awards.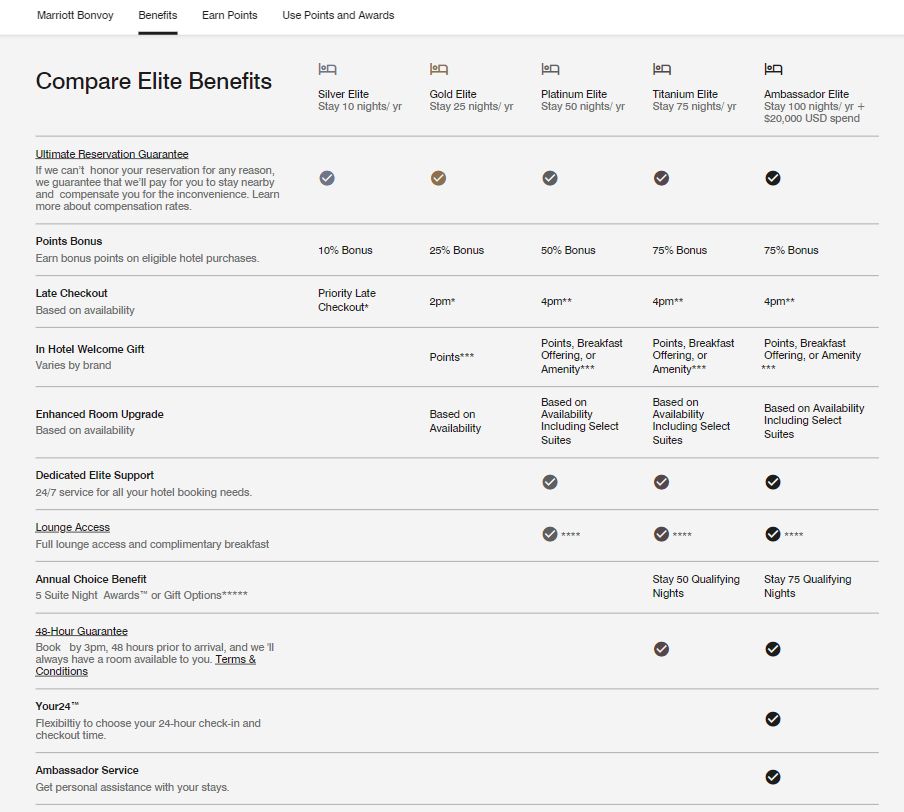 Why it works:
Marriott Elite members who couldn't take advantage of their status benefits could find some consolation in the extension promotion.
The hotel chain also paused Bonvoy points expiration and introduced dynamic pricing, transitioning to peak and off-peak pricing.
Customers will feel grateful for having more flexibility thanks to these changes in the loyalty program.
2. Starbucks – Starbucks Rewards
Starbucks launched its Starbucks Card rewards program in 2008, right when the financial crisis was reaching its peak. Since then, the company has attributed 40% of its total sales to their Rewards Program. During the pandemic they implemented a change in their program, called "Stars for Everyone", enabling people to collect loyalty credits no matter how they paid for their coffee. The driving force behind the recovery of the coffee giant post-pandemic has been loyal customers, more mobile ordering, and strong drive-thru performance.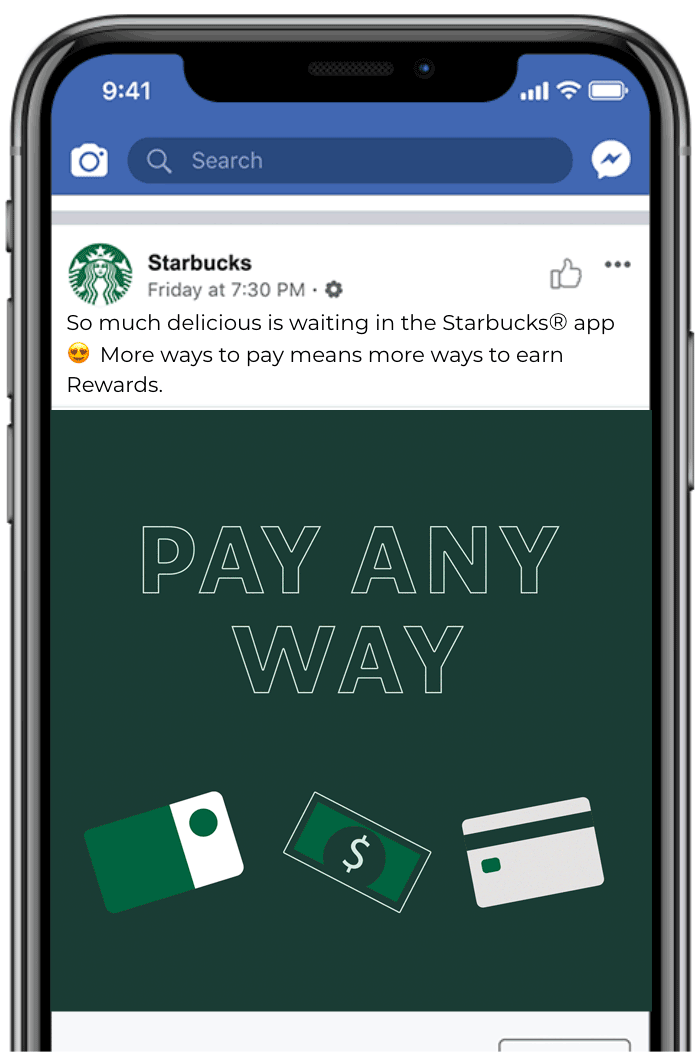 Why it works:
The company wanted to convey how easy it is to get Stars and Rewards using the Starbucks app.
As a result of the "Stars for Everyone" concept, downloads of the chain's mobile app grew by more than 5%.
Using the Starbucks app, Rewards members can locate a store, order ahead and pay, and determine the most convenient pick-up option at the store.
3. Taco Bell – Taco Lover's Pass
The pandemic has also caused restaurants to pivot and learn new ways to connect with guests. Taco Bell, the American-based chain of fast-food restaurants, launched its new subscription service, Taco Lover's Pass nationwide. For $10 a month, customers can buy a pass on the fast-food chain's mobile app and get 30 days of tacos at participating locations across the country.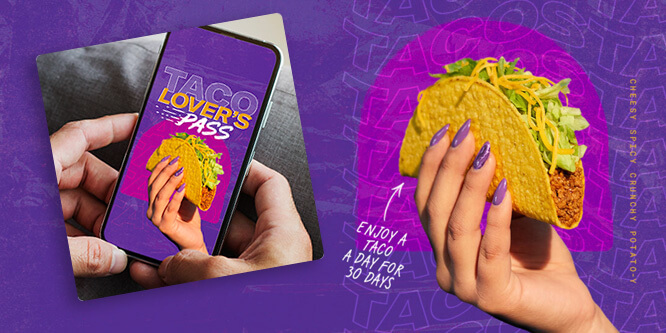 Why it works:
Taco Bell wanted to cultivate customer loyalty and more foot traffic during the pandemic with their subscription-based service.
The restaurant made it easier and less expensive for customers to enjoy their favorite food.
Members visited locations three times as often as non-subscribers and 16% of enrollees signed up for another month.
4. American Airlines – AAdvantage Program
American Airlines launched its frequent flyer program, which was the second such loyalty program in the world, in 1981 during the early 1980s recession. In 2022, following the pandemic, American Airlines revolutionized its elite loyalty program. Rather than requiring that members meet mileage and spending requirements, AA introduced a new "Loyalty Points" system for earning elite status. Members earn a Loyalty Point if they earn an AAdvantage mile.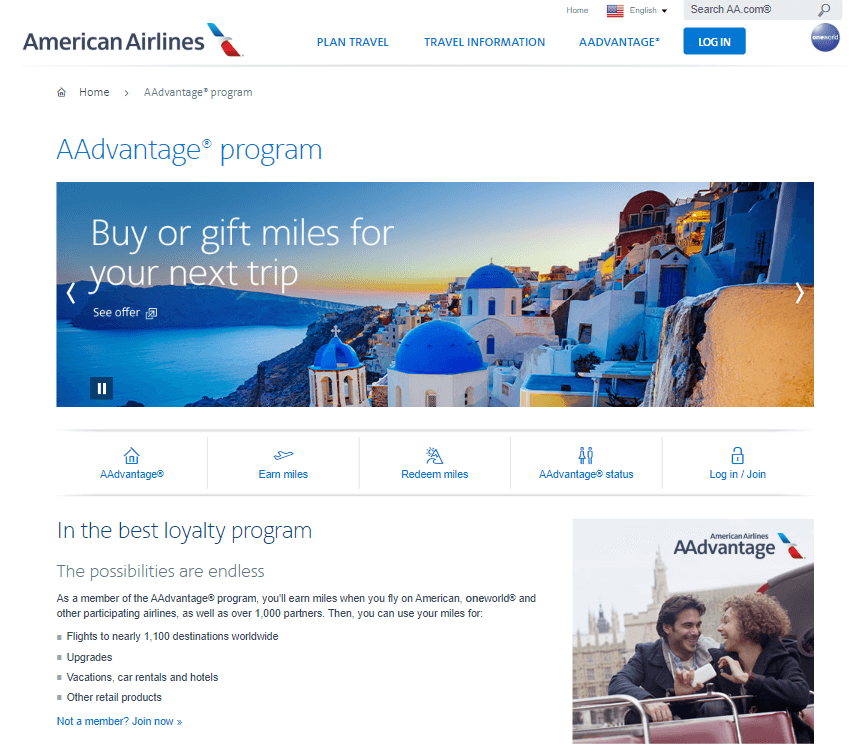 Why it works:
Members earn miles by flying or spending money using an AAdvantage credit card. That means travelers can now earn AAdvantage Elite status without even boarding a plane.
Status members earn additional miles on base flight miles earned when traveling with American Airlines and its partners, helping members to re-qualify faster with additional Loyalty Points.
Starting in March 2022, when members qualify for AAdvantage Platinum Pro or higher and take a minimum of 30 flights, they unlock Loyalty Choice Rewards, including 25,000 AAdvantage® bonus miles, carbon emissions offsets, and a $200 donation to one of 10 partner charities.
5. Accor – Accor Live Limitless
Accor, the European hospitality giant, wanted to support Accor Live Limitless loyalty program members during this unprecedented situation. The company responded by not only extending its reward points expiration date but also by allowing program members to earn and use reward points for bar and restaurant orders — even when they weren't staying overfnight at their hotels.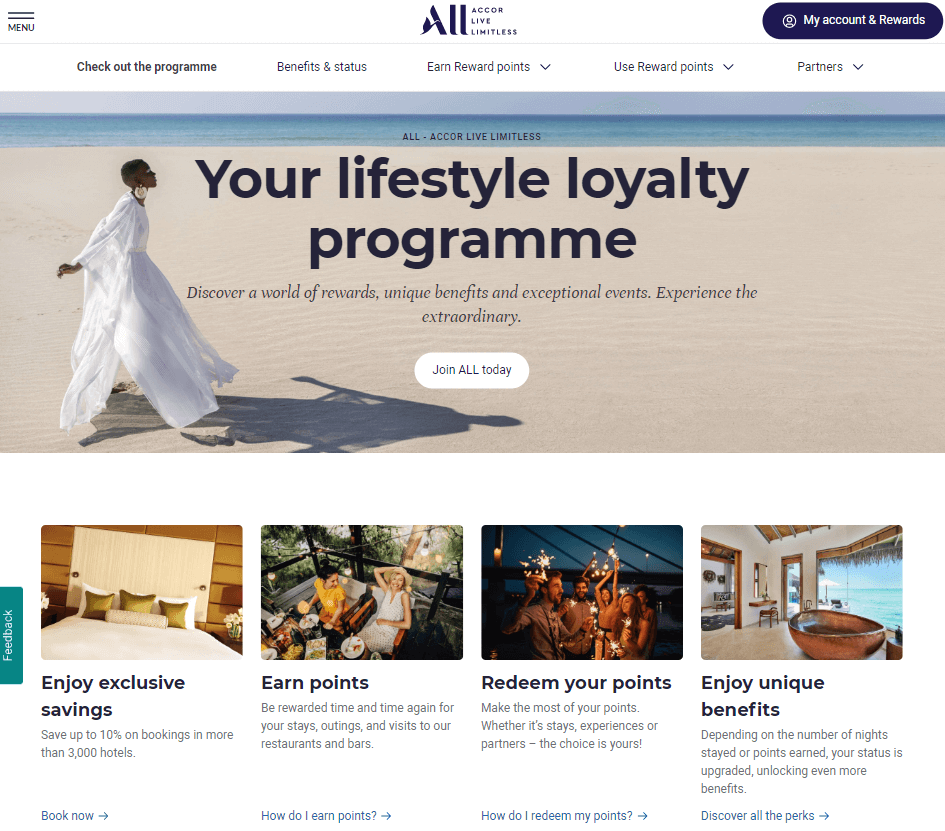 Why it works:
In 2021, the company credited double Status points and Status nights for eligible stays and doubled Status points credited for eligible meetings and events organized that year.
During the pandemic, Accor created co-working spaces, converting some hotel rooms into private office spaces to facilitate remote work. These offers allowed guests to accumulate points and benefit from on-property services.
Accor and Visa also announced a global partnership that brought new payment solutions to ALL loyalty members.
Loyalty Programs a Saving Grace During Times of Hardship
During times of uncertainty, you need to focus your attention on retaining savvy customers. Your goal should be to establish more personal connections with existing customers and strengthen their trust in you. You can do that by letting them know that you care. Customer loyalty has been one of the most strategic mechanisms for increasing corporate revenue growth, especially during times of recession.
Companies of all sizes need to adjust their strategies and budgets in order to successfully navigate the challenging and uncertain times ahead. This includes modifying their loyalty strategy to this end. Because loyalty programs are not only a great solution to retain current customers, they also possess resource-rich customer bases and huge communication possibilities. Hopefully these times won't last much longer, but until life returns to "normal", let us know if we can help you to implement or revamp your loyalty program. Just book a demo or send us an RFP.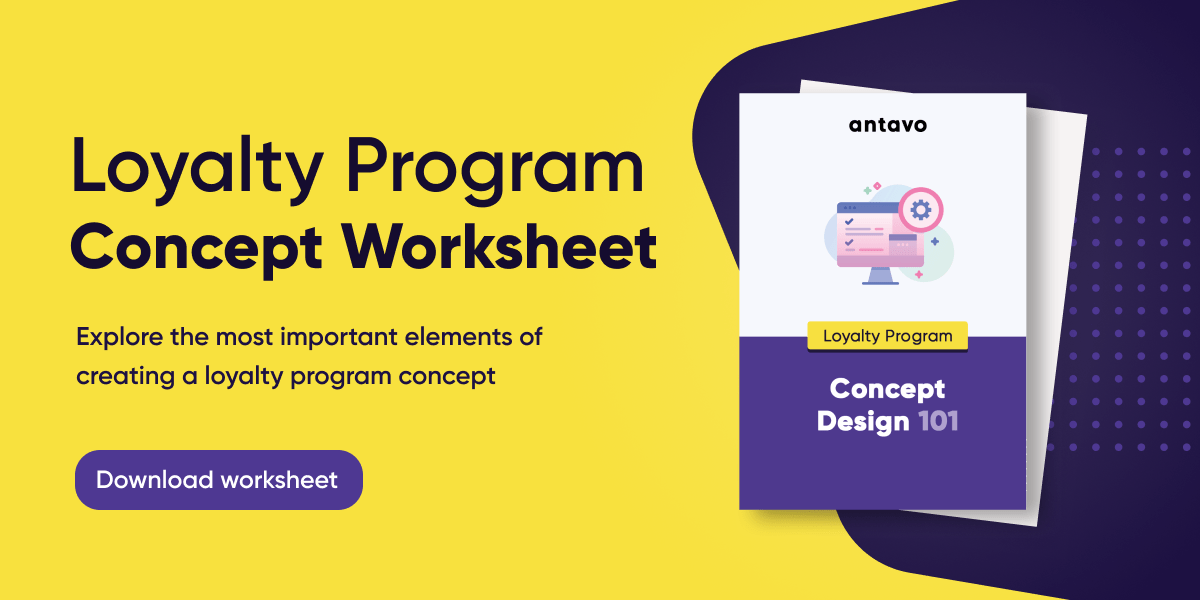 This article was originally published on the Antavo Loyalty Blog. View original.