Determining your loyalty program concept is one of the most crucial steps in the process of building and launching a loyalty program. For one, the initial blueprint impacts the look and feel of the program, which may seem obvious. However, the approach you go with will also affect how smoothly the implementation process flows. This article will provide you with loyalty program best practices to guide you in building a successful program.
Keep in mind that it's important to spend as much time as possible building the core concept for the reward program before looking for a loyalty software provider. With a solid foundation and a lot of forethought, there will be a lower likelihood that you'll need to change the loyalty logic post-launch. Not to mention your integration period will be significantly shorter.
To get you started, here's a detailed loyalty program checklist of the most important steps for the loyalty program concept — coupled with a handy inspirational worksheet.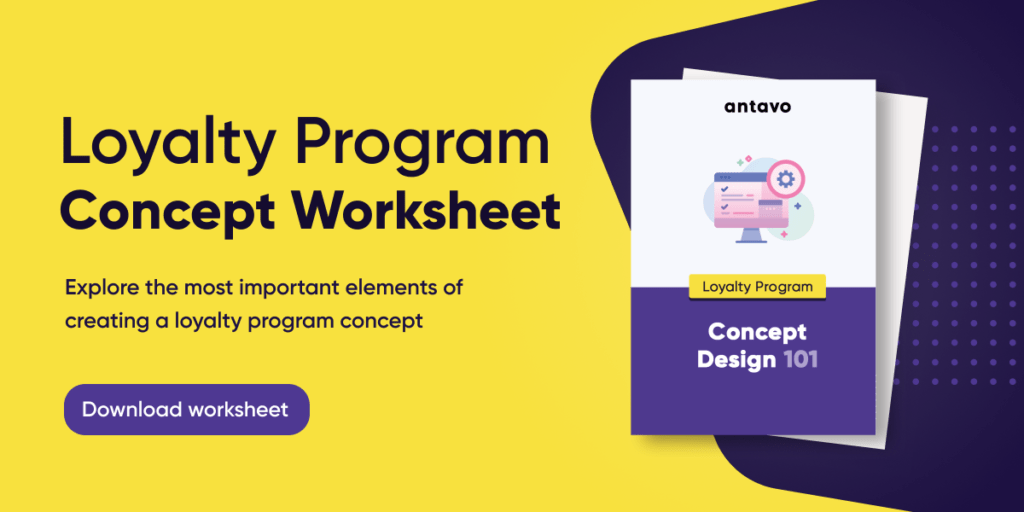 Step 1: Define the Program Structure that Supports Your Marketing Strategy
When discussing the loyalty program concept, clients often cut right to the chase, listing the rewards they wish to offer or the gamification elements they plan to add. Even though these topics should definitely be covered, there are several critical elements that need to be defined first.
Segment
1. What kind of customers do you want to target?
The most important aspects are age, gender, and nationality.

You can also add other groups based on spending power, lifestyle, product preferences, etc.
2. What are your ideal member's spending habits?
To increase repeat purchases, offer a tiered rewards system because it incentivizes.

For a simple and easy-to-understand program that boosts AOV, implement an earn burn program.

Low frequency or luxury industries require you to be generous and upfront with your reward system.
3. Which channels would you like to incorporate into the program?
Make sure to detail which channels will be involved in the loyalty program and whether you wish to integrate them to create an

omnichannel loyalty program

.

If you plan to launch the program in multiple stages, specify both the initial channels and the channels that will be introduced in later stages.
4. If you have a mobile focus, would you like to have a dedicated loyalty app?
A

mobile app

allows customers to access and manage their loyalty rewards and points on the go — without having to log in to a website or carry physical loyalty cards.

The convenience of a mobile app can increase engagement and encourage customers to participate in your loyalty program.
Geographies
5. Which countries would you like to introduce the program in?
Define the

list of countries

where the program will be initially launched.

Determine the regions where you plan to introduce it later on.
6. Which languages should the loyalty program be available in?
Specify which languages the loyalty program will be available in.

Start with your primary audience's language and roll out other languages later, but ensure the roll-out is planned in the concept phase.
7. Which world currencies will your loyalty program be based on?
Decide which currencies should be included in the loyalty program.

This will impact important elements such as point value and currency conversion.
KPI
8. What areas of the business would you like your loyalty program to contribute to?
Customer retention

: we all know that acquiring new customers is more expensive than retaining existing ones. By offering the right rewards and incentives to loyal customers, you'll be able to engage them in the long run and keep them coming back for more.

Purchase frequency

: a well-designed loyalty program can increase customer engagement and encourage customers to interact with the brand more frequently.

Average order value

: a loyalty program can drive sales growth by incentivizing customers to make additional purchases or spend more money per transaction.

Generate a positive ROI

: loyalty programs are capable of generating a

positive return on investment

, which means they can play an integral role in the marketing strategy.

Redemption rate

: this shows how many customers actually redeem their points or rewards for purchases or other desired actions. Low redemption rates are always a red flag: if members are sitting on their points, they are at risk of churning.
9. What are the communication KPIs would you like to improve?
Loyalty email open rate

: send personalized,

targeted emails

to customers about their rewards and promotions. Be sure to send content that is relevant and valuable to customers.

Click-through rates

: provide clear calls-to-action in emails and other communications, such as mobile push notifications or in-app messages.

Conversion rates

: offer incentives for customers to make purchases or take other desired actions. For example, offer points or rewards for friend referrals or survey completion.

Social media engagement

: encourage customers to share their rewards or experiences with their social media followers to increase brand visibility and attract new customers to the loyalty program.
10. Are there any vanity KPIs that you would like to improve, too?
Activity rate

: having a large number of inactive members or members who don't make repeat purchases won't necessarily drive business outcomes. Instead, focus on the active members in your program.

Number of social media followers

: it's more important to focus on engagement metrics such as likes, shares, and comments, which reflect actual engagement with the brand.

Website traffic:

conversion metrics such as click-through rates, conversion rates, and revenue generated from website traffic are more important.
Step 2: Map Out the First and Last Member Journey
Loyalty programs consist of a variety of user journeys, from gamified profiling to in-store identification. The two most important journeys you should figure out as early as possible in the concept phase are the enrollment and opt-out processes. After all, first impressions matter a lot! Plus, letting members go with a bad taste in their mouths guarantees they won't recommend your program to their friends.
Enrollment
11. What steps are required for customers to register?
Make sure it's easy for customers to find the loyalty program's enrollment button.

Choose between single-step or multi-step structure.

Pick a

sign-up form

Consider allowing members to use their social media accounts to sign up.

Don't forget to specify how customers with an existing brand account can join the loyalty program.
12. What type of information do they have to share?
Essential or must-have data includes: name, email, gender, location.

Optional information should include: phone number, age, address.

You can also ask service or product-related questions. For example, whether a frequent flyer prefers sitting in a window or aisle seat.

It's highly recommended to require only essential information during enrollment, and

capture the remaining data

by offering rewards for completing the customer profile or answering surveys later on.
13. Will your customers be able to join the program in your stores, too?
In-store customer enrollment has to be super-streamlined, because customers have the least amount of time and patience there.

Look for ways to quickly enroll customers while they are waiting in the lines, such as using kiosks or posters with QR codes on them.

Staff members should be trained to answer questions customers may have about your loyalty program.
Opt-out
14. What steps are required for members to delete their accounts?
Choose the opt-out method for users: manual opt-out in the loyalty program account menu, or via customer service request.

Always ask for confirmation to avoid accidental opt-outs.

Include an open text field or multiple choice form for customer feedback so members can tell you why they are leaving.
Step 3: Cover Every Aspect of How Customers Can Interact With the Program
This is the meat of the loyalty program concept, where you decide on the most important features. Please keep in mind that the concept is always subject to change, so you should be aware of current loyalty program best practices. Even if you come to the table with a solid idea, you should be ready to listen to the ideas of others and change things around as needed. After all, the more effort you put into your blueprint, the smoother the overall process will be.
Program Structure
15. What type of program would you like to have?
16. What will you call your loyalty program?
The

name of the loyalty program

is more than just a title: you should come up with a whole theme for the loyalty program.

When deciding on a name, be more creative than just adding "Rewards" or "Loyalty Program" after your brand.

Think about a name that connects with a passion that members share, or create a name with an air of exclusivity to it.
17. What will you call your tiers, loyalty currency or VIP club?
The name of your tiers, points and other loyalty program elements should be in harmony with program's name and overall theme.

Avoid being too generic: tier names should be more than just Bronze, Silver and Gold.

Similarly, points should have a name that gives them a feeling of value, such as stars, jewels, coins — or something that fits with your brand image.
18. If you have points, what is the value of one point?
Determine the basic values for how many points the baseline currency translates to, for example $1 equals 1 point.

Keep in mind that this ties in to "Point price", which is the number of loyalty points your customer is required to reach a reward.

It's generally up to you whether you give 1 or 10 points for each dollar spent, as long as the point economy is adjusted accordingly.

Handing out 100 points per dollar creates the allure of point richness, while the opposite helps to keep the economy grounded and easy to remember.
19. If you have tiers, how many do you want?
Having

three tier levels

is considered the default because it separates low, mid, and high spenders.

The recommended maximum for tiers is five. Having more can overcomplicate how rewards and benefits are distributed.

It's worth adding special invitation-only tiers for influencers or creating a VIP tier that only top spenders can access.
20. If you have tiers, what are the requirements to level up to each tier?
There are two options: points or spend.

Basing tier thresholds on spend is straightforward: customers must spend a given amount, like $500, to reach the Silver rank.

With points, customers must earn 1,000 points to reach the Silver rank. In this case, you may allow members to earn extra points for engaging with the brand in other ways than spend, such as writing product reviews or referring friends.
21. What transactions will you incentivize?
You can incentivize eCommerce purchases with online treasure hunts, digital coupons, and gamification.

In-store purchases can be boosted using in-store treasure hunts, mobile passes, and in-store-only rewards or benefits.
Interactivity
22. Would you like to create special holiday or limited-time campaigns?
Create

campaigns

, limited-time or segment-specific events that enrich the core experience by offering double points, instant rewards, or other perks.

List any loyalty campaigns that you will want to launch after the program goes live. For instance, double points on Valentine's Day or early access before Christmas.
23. What non-transactional actions will you reward?
Friend referrals

: Reward customers who

invite their friends

and acquaintances, and encourage influencers to engage by offering various incentives. Friend referrals are an easy way to acquire new customers.

Profile completion:

entice customers to provide valuable content by rewarding them when they complete their profiles.
User-generated content

: set up a hashtag contest on Instagram or offer prizes for members who leave the best comment on your Instagram post.

Writing product reviews:

encourage customers by rewarding them when they write reviews and help you build social proof.

Content consumption:

Ensure your brand message gets across by delivering curated members-only content. Quiz participants at the end to ensure the content was understood correctly.
24. What other unique actions will you reward?
Athletic and healthy lifestyle

: tap into customers' lives by engaging them in

everyday activities

, like when they go for a run or a hike. Encourage them to move more or buy healthier food. Acknowledge them for going for a run and reward them in your stores afterward or provide them benefits for tracking their weekly exercise.

Sustainable choices

:

Implementing CSR

in your loyalty program can help bolster your company's image, build your brand, and attract customers who share similar values. It also makes customers feel better about spending their money, because they know they are contributing to a company that is doing good.
25. Do you want gamification elements in your program?
Prize Wheel

: Implement a

fun wheel

for members to spin and win rewards. This is a great way to encourage sign-ups or to re-engage with inactive customers. Prize wheels work on mobile apps, websites, and in-store devices.

Gamified surveys

: make

profiling feel fun and engaging

by creating engaging visual quizzes. Show your customers a curated selection of pictures and ask them to choose the one they like best. It's a great way to gather valuable zero-party data and get to know your customers better.

Online treasure hunt

: reward people for finding special product pages on the website. Simultaneously encourage members to explore your online catalog more and build a stronger customer profile.

Offline treasure hunt

: get customers to search for marked products and give them a prize when they find them. While looking for

the hidden treasure

, they may find other products they like or discover new areas of the store.

Badges and challenges

: drive recurring behavior by giving your customers a sense of accomplishment for completing challenges. Customers can unlock rewards by completing a task or challenge or

receive a badge

that comes with an extra benefit, such as an instant prize or discount.

Leaderboards

: Easily identify your most loyal customers on a leaderboard. Top players can inspire the community, in turn driving additional valuable actions.
26. Would you like to create social media contests for members?
Instagram hashtag and comment contest

: Harness the power of word-of-mouth. User-generated content is considered more authentic by customers and holds more influence over their buying decisions.
Step 4: Rewards Are the Jewels of a Loyalty Program
Rewards are benefits or physical items that are granted, gifted, or assigned to loyalty program members based on their achievements or efforts within the program. Identifying the most fitting incentives for your brand and target audience is one of the most important steps for any loyalty program concept. Whether it's gifts, coupons, or other benefits, make sure they shine bright. Remember, the end results may differ from your initial vision, but planning out the reward system is still an essential part of the process.
Rewards
27. What type of rewards would you like to offer?
Financial benefits

: customers generally expect some form of monetary benefit, but financial benefits alone won't make people more loyal to your brand. Still, coupons are an effective way to boost member acquisition.

Events and experiences

: experiences can range from concert tickets and free lunches to party invitations and hotel stays. These are great opportunities to give customers lasting memories, which can lead to lifetime brand love and advocacy.

Physical gifts

: these are perceived as more valuable and desirable than simple coupons.

Service-related benefits

: for example, express shipping, money-back guarantees, or free alterations. The goal is to make customers' shopping experience more convenient.

Custom rewards

: offer something unique and brand-specific, which will distinguish your business from the rest.

Keep in mind if it's a coupon or voucher, describe its monetary value in the reward description. Or, if it's a non-monetary reward, describe its characteristics and focus on the benefits.
28. Are rewards available just one time, or will they be redeemable multiple times?
Decide whether each reward can be claimed once, multiple times, whether it will be permanent, or available for a limited time.
29. What conditions should customers meet in order to receive a reward?
Clearly indicate any condition that has to be fulfilled in order to redeem each reward, such as a minimum order value, time period, or the purchase of a particular product type.
30. Will you offer permanent benefits as part of your loyalty program?
Decide whether you want to offer permanent benefits like free shipping, double points for purchases, or an extended warranty for all members or members of a specific tier.
Benefits
31. What are the conditions for acquiring these benefits?
In the case of a tiered loyalty program define how customers can reach each tier and list all of the benefits associated with each tier.

The best practice is to create a table that visually showcases tier names, values, and conditions.

Some benefits should be available for all tiers, while the most desirable or prestigious incentives should be reserved for your highest-tier members only.

Define if customers need to reach a certain spend volume.

Customers may need to complete a task for instance completing their profile or a challenge in case of a gamified loyalty program.
32. Will these benefits be permanent, or will they need to be renewed?
Decide whether benefits can be used multiple times, one time only, and whether they will be permanent or available for a limited time.
33. Would you like to offer VIP clubs to members?
Consider offering a VIP group centered around a popular product or service. Loyalty program members may need to pay a fee (in points) to enter, but they will receive incredible benefits once they're in.

If you don't like the idea of having members pay an entry fee (or your program doesn't use points) you can achieve the same results by establishing

an invitation-only VIP tier

. This will allow you to exercise control over the club by hand-picking members.

The VIP club should include the

perfect mix of unique rewards and exclusive experiences

to convey the feeling of special treatment.
Privilege
34. What are the requirements to join your VIP clubs or tiers?
Determine whether customers need to be influencers with a certain amount of followers.

Decide whether you only want to invite members who are among the top 100 spenders.

Maybe customers simply need to spend a certain amount of points to gain access to the VIP club.
35. What perks will customers receive as VIP club members?
Exclusive experiences

: experiential rewards like

invitations to a fashion show

, a special shopping session, or members-only clubs will definitely hit the spot for your most relevant customer segment.
Early access

: this makes loyalty program members feel privileged because they have access to something that other customers don't. It also helps you save money because managing it in the loyalty program platform has little to no associated cost.
VIP treasures

: from a book signed by a top influencer or designer

on member birthdays

to limited-edition merch,

the possibilities are endless

. Remember: the gift itself doesn't have to be expensive, but if it's available for a limited time, or has a high emotional value, it's sure to have the desired effect.
Free shipping

: offer top-tier members free shipping for a limited time. By limiting your offer to specific tiers, you can ensure this benefit continues to feel exclusive to your top customers.
Enhanced customer service

: provide your most valuable customers with a VIP customer service line, which clearly shows that you care about them.
Step 5: Don't Forget About Collecting Customer Data
Reporting involves planning out how the loyalty program's results and KPIs will be measured. It is often overlooked during the loyalty program concepting phase. Bear in mind: this is something you should define during the implementation period, and not after launch. Why? Because it involves sharing the data points relevant to the information you wish to monitor with your loyalty tech provider. You have to gauge the performance of your loyalty program from day one, so not factoring in your reporting capabilities means you'll miss out on important data.
Reporting
36. What kind of data would you like to track?
The most common results you should track, which measure the performance of your loyalty program, include: ROI, reward redemption, adoption rate, redemption rate, customer lifetime value, and net promoter score.

You should also track how the loyalty program has increased repeat purchase and AOV for members (compared to non-members), as well as whether it has managed to reduce churn.
37. What type of reporting service would you like to integrate?
Though many loyalty platforms come with built-in reporting capabilities, it never hurts to integrate specialized BI solutions for more detailed reports.

The most popular BI tools include: Power BI, Tableau, Oracle Analytics Cloud, and MicroStrategy.
Bring Your Loyalty Program Concept to Life With Antavo
Once you have your concept outlined, the next step is to look for a loyalty technology provider that has the capabilities to turn your ideas into reality. If you're interested in sophisticated loyalty solutions accompanied by robust APIs, make sure to give Antavo a shot. Just include us in your RFP, or book a demo.
And don't forget to download our worksheet to kickstart concept planning for your loyalty program!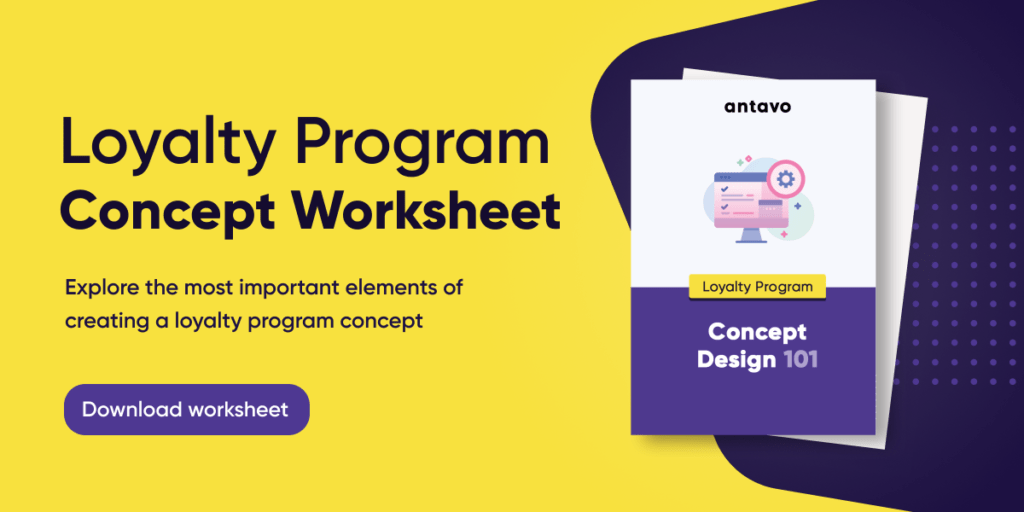 Antavo Enterprise Loyalty Cloud